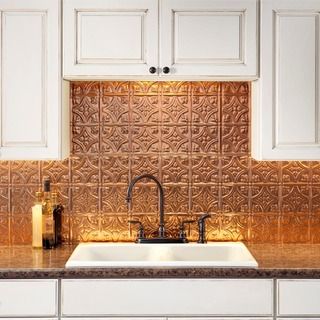 From range hoods and pendant lamps to stools and accessories, bet on metal.
I just watched the Christmas classic, Rudolph the Red Nosed Reindeer, so I have silver and gold (silllver and golllld) on the brain. What better time than the holiday season to focus on sparkle, glow and the light and shine that decorations can lend to a space? So stop untangling those strands of lights. Put the naughty people aside. And grab some peppermint bark because it's time to focus — not on the mantle or the dinner table, but the kitchen.
Always the heart of the home, and typically the center of attention at every gathering, the kitchen is a perfectly practical place to add warmth. Whether you want to play it conservatively and add a few accent pieces, or go all out and give yourself the gift of a complete renovation, metal has definitely found a home in the room you live in the most.
At Chester County Kitchen and Bath, we believe in luxe surroundings. But we also understand that comfort and functionality matter. We think creativity should be encouraged, and believe that tradition has its place. And, we love helping clients realize the myriad of ways a kitchen or bath can be personalized.
When it comes to metals, we have the vendors and vision to make your new look practically extraordinary.
All that glitters
Do you remember the year you opened that ginormous box of Crayola crayons? The one with the sharpener built in? I may be dating myself, but suffice it to say the color choices were seemingly endless. That box opened my eyes to the fact that yes, there are at least nine shades of green and yes, that can be a good thing!
Though the options for metallics may number less than a box of crayons, there is still ample room for inspiration. Consider these metallics, and picture how much fun you could have putting them just about anywhere in your kitchen…
Rose gold
The iPhone has made rose gold the up and comer for metallics. It's gold's favorite (and most fun) aunt. And now that it's more mainstream, it is available on more items than you can imagine.
Silver
From large range hoods and even cabinets to small drawer pulls, silver has shine. Though typically viewed as modern, silver can be mixed with wood to create a compelling contrast in the kitchen.
Copper
Picturing copper pots hanging from rustic kitchens? Cooper has always had its place, but today, the warmest of the metals is turning up on countertops, faucets and light fixtures. Generally, darker copper is considered more traditional, while light copper is used in more modern designs.
Gold
Gold is classic, and it has tones ranging from cool to warm. Whether you go bold with gold, or just use it to add some shine to small areas of the kitchen, it's a metal that is as sophisticated as it is showy.
Bronze
Cooler, and usually darker, than pure copper, bronze has an old-world feel that lends itself to rustic and also minimalist kitchens.
Nickel
Bright and bold, nickel draws the eye with its luster and shine. Use it for sinks, faucets and contrast it with wood to create wow.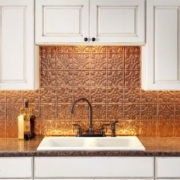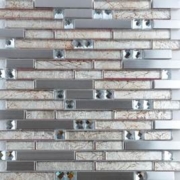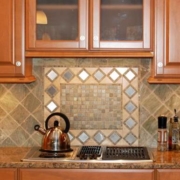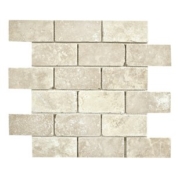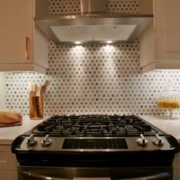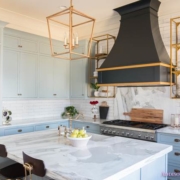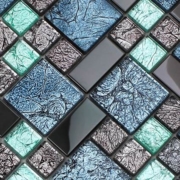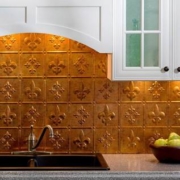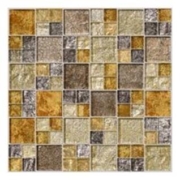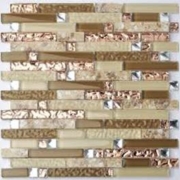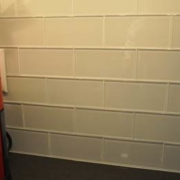 The where and the what of the "Wow!"
The first question is, "Where will you add metallic accents first?" and the second is, "When will you stop?" The lure and luster of metallics is undeniable. As humans, we're drawn to all things sparkly — the stars in the sky, diamonds and yes, island stools!
The best news? Mixing it up is not only "allowed," but enthusiastically encouraged! Pair metals that are unexpected. Use glass where tile might go. And experiment to find your unique style — after all, it is your space.
So where do you begin?
Pick one theme or area you want to focus on — like a gleaming copper hood, or the flecks of gold in your granite — then add brass light fixtures or introduce matte black. Add a collection of copper utensils in a brass bucket on the countertop, or give your cooper tea kettle a starring role on your stainless steel range. You can even try a stainless faucet with brass hardware. As long as things coordinate, the old rules of matchy-matchy are truly a thing of the past.
Mixing works for more than just metals, too. Picture a natural stone backsplash, such as travertine, then add a touch of gold in the framed mosaic design you use as the focal point for your range. Too much of a commitment for you? Then simply sprinkle random stamped copper tiles all around your kitchen backsplash — or just on one wall. A backsplash is an easy way to bring whatever colors you're playing with together without looking like you're trying too hard. Whether you are mixing brass or steel, tile or glass, the backsplash is the unifying force behind more beautiful kitchens.
In addition, Chester County Kitchen and Bath is seeing design partners and vendors introducing tile mosaics that mix glass, tile, stone and metal — a dynamic that translates from slick catalog to country contemporary kitchens surprisingly well. This planned chaos can help incorporate colors and textures you're using elsewhere in the kitchen and create a look that flows andmakes your space stand apart at the same time.
Whether you start your mix magic with something more permanent — such as a range hood, or changeable — like wall hangings or cooking utensils, there is no limit to where and how you add a metallic glow. Looking for metal's main showplaces? Here are some of the more popular ways to integrate shine:
Staying power:
range hoods
backsplashes
sinks
cabinets
faucets
Minimal commitment:
stools
utensils
small appliances
drawer pulls/handles
pendant lamps/light fixtures
So this year, as you're stringing the lights, topping a tree, lighting the candles, and generally shining-up your holiday season, take a minute to take in your kitchen.
Could it use a little something?
Is there an appliance you've grown tired of?
A corner that's calling out?
A wall that could be more warm and wonderful?
We see that glimmer in your eye…
Blogger: Christy Parker
Christy Parker Writing/Copywriting
tappyfingers@gmail.com
https://www.cckab.com/wp-content/uploads/2018/12/image001-1-1.jpg
320
320
Chester County Kitchen & Bath
https://www.cckab.com/wp-content/uploads/2020/03/CCKAB-Logo-01-300x298.png
Chester County Kitchen & Bath
2018-12-10 13:27:42
2018-12-10 13:32:20
Metallic accents have it all glowin' on.